DuoLife Beauty Care Collagen Day Cream
£45.50 .
DuoLife Beauty Care Collagen Day Cream is a highly advanced day cream with anti-wrinkle effect. The newly developed technology allowed to obtain a 30% concentration of collagen (including 18.5% collagen hydrate). Cream containing as many as 3 types of collagen. The cream also uses a complex of 4 types of hyaluronic acid, which reaches the different layers of the skin to provide deep and multi-level hydration.
Out of stock
Package type: Glass
GMO/GLUTEN FREE: Natural
Description
Cosmetology MUST KNOW
It's never too early and it's never too late to start anti-aging care. The more work you put into skin care, the slower it will age in the future. You have a chance to look better than your peers!
Use regular care products from the DuoLife Collagen Beauty Care line:
Day Cream

Face Serum

Face Mask

Night Cream
Discover the unique properties of DuoLife Beauty Care Collagen Day Cream
---

Advanced Collagen Technology
The use of collagen hydrate with a patented method of thermal and microbiological stabilization provides us with uniqueness and exclusivity on the European market. Collagen as a protein is a nutritional medium for many groups of microorganisms and therefore its effective microbiological stabilization is necessary to guarantee the safety of use in cosmetics. The collagen hydrate used in our products has both thermal and microbiological stability confirmed by patent Pat.233679.

Specially selected and selected active substances derived from marine organisms in accordance with the latest trend – 
marine organisms are the key to our youth.
SKINPRO QM (HD)
 is a rich source of natural glycosaminoglycans from 
jellyfish:
 mucin and kniumucin.
Mucin is an ingredient with outstanding moisturizing properties.
Kniumucin has an amazing ability to bind water – 3 times greater than hyaluronic acid. In addition, it has anti-pollution properties; protects against pathogens, UV radiation, excessive dryness, high temperature and fights free radicals by acting, anti-aging.

DuoLife Beauty Care Collagen Day Cream has outstanding moisturizing properties. The use of two very effective active substances gives a moisturizing effect, which has been confirmed in application studies.
SQUALANE is a natural ingredient in our sebum. It affects the maintenance of the proper liquid structure of the water-lipid intercellular binder, ensuring proper hydration of our skin.
HYMAGIC 4D is a unique combination of four types of hyaluronic acid with different properties that reach all layers of our skin.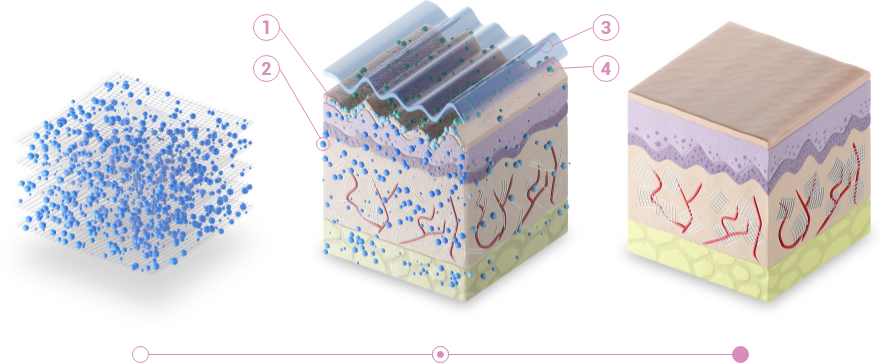 Hymagic 4D structure Three-dimensional water retention network.
Accurate tracking of individual layers of the skin.
Healthy, moisturized and elastic skin.

Sodium Hyaluronate Crosspolymer
Creates a dense protective layer on the surface of the skin, reducing water loss and at the same time providing round-the-clock hydration, anti-pollution action and anti-UV protection.

Sodium Hyaluronate
Retains water on the surface of the stratum corneum of the skin.

Sodium Acetylated Hyaluronate
Firmly adheres to the stratum corneum of the epidermis, providing excellent hydration and regeneration.

Hydrolyzed Sodium Hyaluronate
Quickly penetrates the epidermis and dermis, moisturizing and rebuilding the skin from the inside.
The results of the study show that after just one hour after application, the skin hydration thanks to HYMAGIC 4D increases by 155.1%. HYMAGIC 4D provides instant multi-level hydration and keeps the skin smooth and elastic.
See why and where the first signs of skin aging appear the fastest
---
The skin begins to age biologically from about 25 years of age – it is then that collagen begins to decrease in it, which determines its firmness and density, and the first wrinkles begin to appear.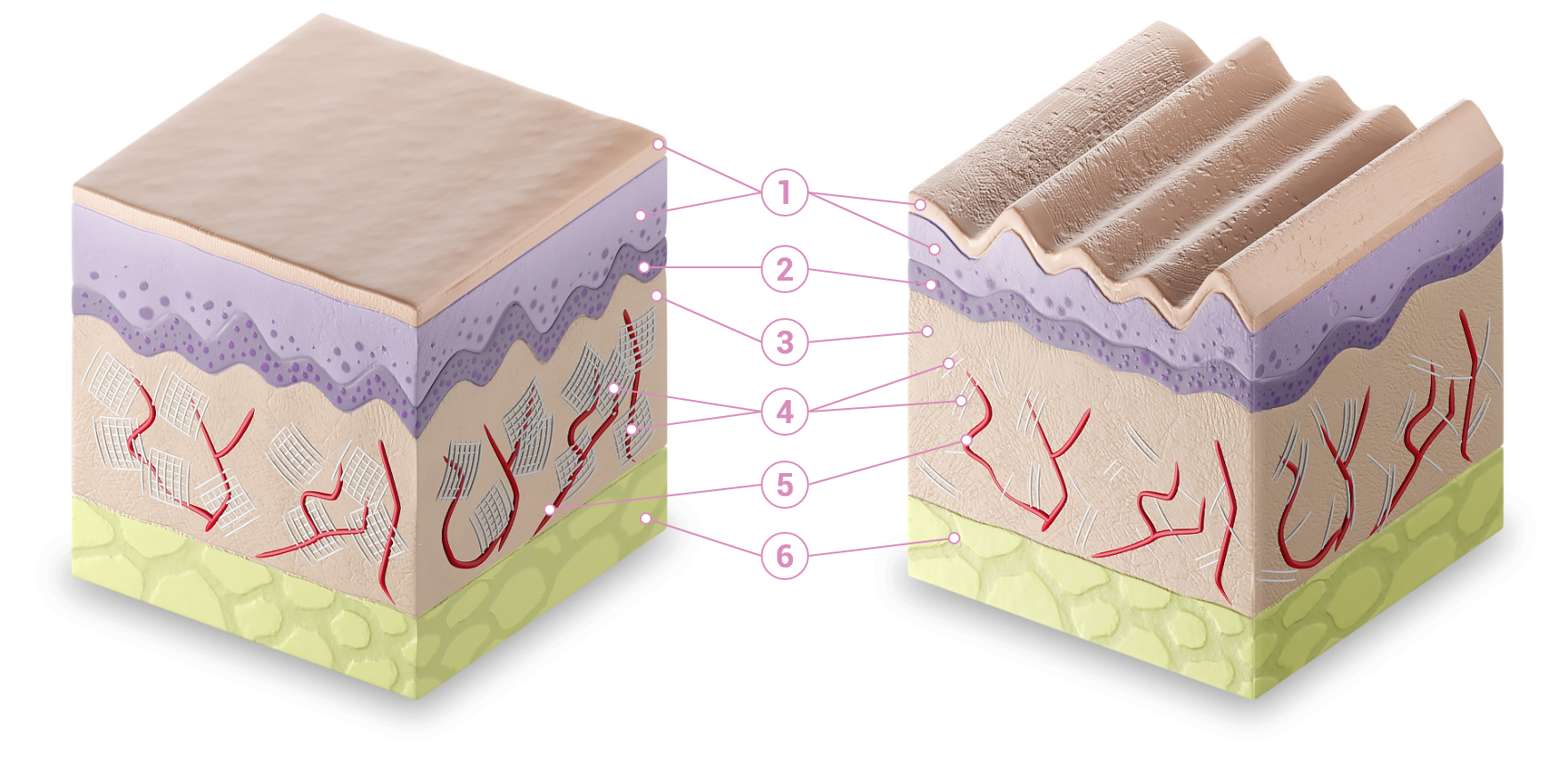 2
Combination of dermis and epidermis
Collagen is the most important connective tissue protein, made exclusively of amino acids, which, like glue, bind cells together (hence its name, from the Greek word "kolla" which means "glue") 
1
. The dermis consists of collagen in as much as 70-85% and it is thanks to it that it retains its consistency, density, elasticity and elasticity, so it is all that determines its youthful appearance and the absence of wrinkles. Unfortunately, already around the age of 25, collagen begins to decrease in it – it is believed that this loss is about 1% per year. 
2
 .
This is influenced by the processes occurring in the skin, such as:
natural degradation of collagen – subcutaneous tissue ceases to be elastic, begins to fold;
loss of hyaluronic acid, which contributes to skin dehydration – dry skin is more susceptible to the appearance of wrinkles;
weakening of the hydrolipid protective barrier of the epidermis, which leads to dryness of the skin and intensifies the harmful effect of external factors;
decrease in the activity of the sebaceous and sweat glands, which aggravates the problem of dry skin.
Face map – places where the first visible wrinkles appear the fastest and most often
Additional information
| | |
| --- | --- |
| Weight | 50 g |
| Brands | Duolife |
Only logged in customers who have purchased this product may leave a review.